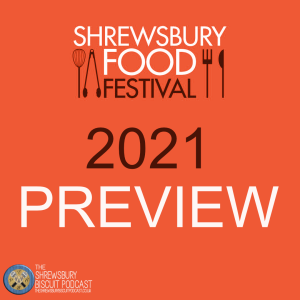 Monday Aug 30, 2021
The Shrewsbury Biscuit Podcast: Shrewsbury Food Festival 2021Preview Ft Beth Heath
AL chats to Beth Heath from Shropshire Festivals to find out everything we need to know about Shrewsbury Food Festival 2021.
Last year, everything was cancelled, it was awful. Apart from a good little bit of respite for us locals brought by Beth & the team at Shropshire Festivals, when they thought of the Drive-in festivals last summer. 
What we really need though is a full scale party featuring top chefs, great food, fantastic drinks and lots for the kids to do, this is where Shrewsbury Food Festival comes in, because it's back baby!
There is a sense of excitement in the air as we wind up to what is set to be something very special indeed. Beth says it should be the Food Festival that we all know and love, but this is exactly what everyone needs to blow off the cobwebs after that last 18 months right?!
What can we all expect to see this year? How has Covid affected things this year and why are you likely to find Beth hanging around the toilets? ;-)