The Shrewsbury Biscuit Podcast
2019-01
Episodes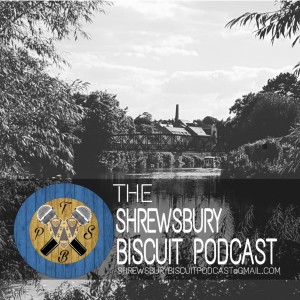 Saturday Jan 26, 2019
Saturday Jan 26, 2019
TO START THINGS OFF WITH OUR COVERAGE OF NEXT MONTHS DARWIN FESTIVAL, I POP INTO THE UNITARIAN CHURCH IN SHREWSBURY TO FIND OUT ALL ABOUT THE CHURCH THAT DARWIN WENT TO AS A BOY. THE CHURCH IS CONTRIBUTING TO THE DARWIN FESTIVAL BY HOSTING A NUMBER OF EVENTS. THIS EPISODE IS COMPRISED OF 2 PARTS. PART 1: I SPEAK TO MARGARET, WHO EXPLAINS THE HISTORY OF THE CHURCH AND IT'S IMPORTANCE TO THE WORLD NEVER MIND SHREWSBURY. PART 2: I SPEAK TO FIONA ABOUT UP AND COMING EVENTS THAT ARE BEING HOSTED AT THE UNITARIAN CHURCH AS PART OF THE DARWIN FESTIVAL. CHECK OUT ORIGINALSHREWSBURY.COM FOR MORE INFO ON THE DARWIN FESTIVAL, OR YOU CAN DOWNLOAD THE EVENTBRITE APP TO SEARCH FOR EVENTS TICKETED BY THEM.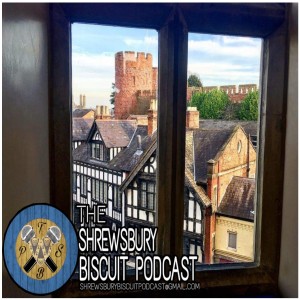 Saturday Jan 19, 2019
Saturday Jan 19, 2019
FEATURING SHANE CHEBSEY SHANE IS BRINGING THE COMIC SALOPIA COMICBOOK FESTIVAL TO SHREWSBURY IN JUNE. AN EVENT THAT IS VERY EXCITING AND WE DISCUSS ALL OF THE GREAT THINGS THAT WE HAVE TO LOOK FORWARD TO. THE FESTIVAL WILL SPREAD THROUGHOUT THE TOWN AND WORK WITH MANY POPULAR LOCATIONS AND LANDMARKS THROUGHOUT THE TOWN, INCLUDING THE CASTLE AND THE DANA PRISON. THANK YOU TO SHANE, CHARLIE AND JANE WHO ARE GIVING ME THE OPPORTUNITY TO WORK WITH SUCH A GREAT EVENT. INTRO MUSIC: COSMIC RAYS, FT SHANE CHEBSEY, CHARLIE ADLARD, ROB MCFALL & BERTY CLEWES. THANK YOU SHANE FOR SENDING ME THIS MUSIC, YOU GUYS ARE SO GOOD, I'VE LEFT THE FULL VERSION OF EVERYWHERE, ENJOY! PIC CREDIT: KATE BROOME, A VIEW THROUGH A WINDOW AT THE CASTLE. ONE OF THE MANY PERKS OF THE TOWN, THE VIEWS OF THE TOWN. THANK YOU!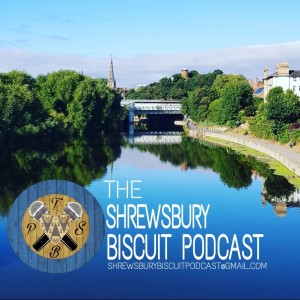 Saturday Jan 12, 2019
Saturday Jan 12, 2019
EPISODE 10- AUTHOR, RONALD D MORGAN FOR MY FIRST EPISODE OF THE YEAR I WAS LUCKY ENOUGH TO SPEAK TO AUTHOR, TOUR GUIDE AND ALL ROUND GREAT GUY RON MORGAN. "EVERYONE HAS A BOOK IN THEM" GREAT ADVICE BY RON AND A GREAT MOTIVATOR FOR ANYONE THAT HAS AN IDEA FOR A STORY OR BOOK, GET OUT THERE AND WRITE IT. IF YOU DO, YOU COULD END UP CREATING A MASTERPIECE LIKE "DON'T BRING ME FLOWERS".  I'M LOVING RON'S BOOK, IT HAS EVERYTHING IN IT, FROM STORIES OF SURVIVAL, MOMENTS OF PERIL AND A STORY THAT SPAN'S ACROSS THE GLOBE, INCLUDING MANY PLACES THAT YOU MAY RECOGNISE IF YOU'RE FROM SHREWSBURY. THANK YOU RON, IT WAS AN HONOUR. PIC CREDIT: AMBER BRUNT, A GLORIOUS SUMMER PHOTO OF THE SEVERN, BECAUSE DURING THIS LONG MONTH OF JANUARY WE COULD ALL DO WITH A LITTLE BIT OF WARMTH.